We know that we can make it!
Historically, only about 5% of thru-hikers ever make it all the way to Canada. In recent years, that percentage has increased significantly. (Click for Graph Detail) Why the change? We believe that better and lighter equipment, more information, and more established resupply points are all contributing factors. But still, with a drop-out rate of greater than 60%, the odds are against us reaching the Canadian border. How can we be so certain that we'll make it?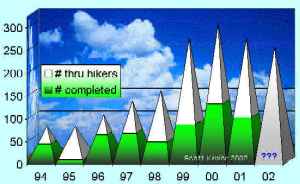 The real answer is that we can't be 'certain'. Illness, injury or other unforeseen factors may pull us off the trail before we reach Canada. But those events aren't the only reason that people leave the trail. Physical stamina, mental focus and other controllable factors often pull people off the trail as well. In fact, we were surprised to hear, upon meeting a woman who completed the PCT in 1999, while we were backpacking around Mt. Rainier (hello Lia!), that the number one reason that people pulled off the trail? - finances. Many young thru-hikers, long on desire for adventure, but short of funds, do a little too much splurging at resupply points! After a week on the trail, who can resist the allure of clean sheets, air conditioned motel rooms, dining out, and other entertainment? With roughly 26 resupply points (more or less), these expenditures add up swiftly. Too swiftly for some folks. So, the real question is "How do we know that we have it in us to make it all the way?"
That answer is simple. We've been there before.
We met in 1999, while cycling across the United States on a charity bicycle ride that benefited the American Lung Association. We each had our own reasons for signing up for that adventure. For Rachel, who was healing from a recent divorce, the ride was an opportunity to re-establish her self-identity, a huge project that she could pour energy into that she could call her own. For Scott, the ride represented a new beginning and came at a critical time in his life where he was transitioning from working each day to a new life, at that point, undefined. Neither of us were then, or are now, avid cyclists. Neither of us are normally involved in fund-raising. Yet here we both were, saddled with the task of raising $10,500.00 CDN in four months, and training for a 3,250-mile bicycle ride that would mean 100+ mile days back-to-back. Talk about anxiety! We both wondered if we could raise the money and ride such distances, day in and out. Did we have it in us?
We did. Independently (and despite our fears), we raised the requisite money and cycled 3,250 miles across the US.
We remember how frightened and anxious we were before the trip, both about the fund-raising and about the challenge of cycling 80-100 miles each day. With the experience is behind us, we remark on how overly worried we were about little details. Details that kept us awake at night: Do I have the right clothes? What if it rains? Will I be too cold? What kind of bike should I take? Everyone else is taking a really lightweight bike, should I spend the extra money and get one of those? Am I training enough? What if I can't make it? What if I don't raise all the money? The list was endless.
Our advice now? "Don't worry! We have it in us and the little details will work out."
It sounds glib, but it's true. Things do have a way of working themselves out. We don't mean that we're not going to prepare. We just mean that we will try not to sweat the small things. Whether or not we use a certain brand of stove or not will not dictate whether we finish the PCT. Even if we should buy a sleeping bag that's too heavy, or too cold, or too ANYTHING ... we'll (ultimately) find a solution to remedy the problem. (OKAY ... how many people have died on the PCT because they had the wrong sleeping bag? NONE. See what we mean?)
We laugh, however, because we really should learn to take our own advice. (Do we still worry about little things? Yep! Even knowing they are trivial. I guess we can't help it!) Still, when it all seems too overwhelming, we take solace from our cycling experience. We can RELAX a bit and take a breath. "We CAN thru-hike the PCT," we say to ourselves. Whatever little detail we forget up front, will get remedied on the trail. We believe it.
While we know that we have it in us to finish the trail, there are those who don't. "They're too confident," they might say. "They're too inexperienced. Being together at home together is one thing, but being on the trail together is something completely different. They won't last," others might say. How do we know they're out there? We've seen the poll on our PCT home page! As of this writing, at least ONE person doesn't think we'll make it all the way to Canada. What's it up to now? (Check Poll Results)
Based on our cycling experience, we know that can hike the PCT. It won't be easy. All we can do is plan, then start, then put one foot in front of the other, and believe ... for each step of the well-over 7 million steps it will take us to get from Mexico to Canada.
Like the little train who could, "We CAN thru-hike the PCT, we CAN climb that mountain, we CAN finish. Chooo, chooo!!"