Get ready, get set, SPEND!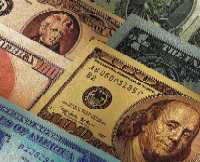 Okay, so we've decided to thru-hike the PCT and we've made the necessary mental and time commitments, now what? Well, open those checkbooks, give up those first-borns, bump up your spending limit, because it's time to acquire equipment and supplies: A food dehydrator; boots; tent; food; among other things. Somehow, we are going to have to fund our little adventure. I won't just equipment, trail expenses, and food either. We'll also have to pay for living expenses after the hike (since we'll both be unemployed), storage, insurance, on-trail hotels, restaurants, transportation, mailing fees, and 'who knows what else?' while we are away.
It is difficult to come up with an accurate figure for the true cost of this trip. We are using some gear that was purchased many years ago. Should we include those costs? We won't be paying rent while we're hiking, but should we include the cost of storage? Where do you draw the line? I'm sure that we'd be shocked to find out the true, total cost of the hike. But you can't really put a price-tag on your dreams, can you?
We learned from our 1999 thru-hiking friend, Lia, that financial shortfalls can chill even the warmest dreams of completing the trail. Because of this, we want to give you some ballpark figures to consider. We believe that it will aid in your planning to know what we've spent, even though your experiences may be significantly different from our own.
Firstly, you should know that we are relatively frugal people. We clip coupons, buy in bulk, opt for generic brands, and drive 10-15 year-old vehicles that were purchased used. We don't dress fancy, though we notice that we tend to eat out more than we like (part of the problem with being a newly married ... we have someone to go out with all the time!) When we met, we lived 1,200 miles apart, but we sold our homes and we are now debt-free (yahoo!). We prioritize our spending and are less discretionary when it comes to the things we enjoy, like hiking. When we were married in October, we asked wedding guests for recreation equipment gift certificates, in lieu of normal 'registry items'. This helped to defray the impact of approximately a third of our equipment costs. (Thank you, everyone!)
We've broken down our expenses into two categories: Those needed before the hike, and those used during the hike. Money spent during the hike will (for obvious reasons) have to be added later.
Pre-hike Expenses
Pre-expenses fall into one of two groups: Equipment or Food.
EQUIPMENT (camping gear, clothing, footwear & non-food items) - Because of the generosity of our wedding guests and because we had been planning on hiking the PCT for a couple of years, we were able to defray equipment charges over the year. We've never really experienced a huge financial drain in any given month. Last spring, we bought some equipment and tested it during the summer hiking season. We were married in October, on the heels of the hiking season, and went on a couple of big shops at REI (Recreation Equipment, Inc.) and MEC (Mountain Equipment Co-op) . That was fun! We also used the Christmas season to buy each other a few luxury trail items. For these reasons, we didn't really have to alter our normal monthly budget. Equipment was purchased ad-hoc over the course of the year. We were lucky.
What did we spend? Looking back over our Quicken records, we spent roughly $3,000 US for our equipment. Note: Specific gear selections will be discussed in greater detail further in our 'planning' section, but some of the highlights are covered here to give you an idea of what we bought.
Initially, we each bought a heavy pair of boots (thinking that we would need them on the PCT, but after our summer hikes, we've each re-thought the issue and purchased lighter-weight hiking boots). This misstep ... ha, ha - more lame trail humor ... cost us about $400 US. We've both bought lightweight camp shoes and new sleeping bags (in addition, Scott made himself a "Ray Jardine sleeping quilt" which cost us an extra $100 US). Rachel bought a new external frame backpack because the one she had been using was a hand-me-down and didn't fit properly. Scott is using his 20-year-old external frame pack, opting to wear it out and buy one on the trail, if it should fail. We bought a tent and a food dehydrator. We bought lots of new clothing. (You can save lots here if you already have your clothing.) Because our pack trips have historically been limited to several days, we tend to use existing camp clothing and (gasp!) street clothing. After our 10-day Wonderland Trail trip, we each decided to purchase lighter-weight, faster-drying, more durable items. Books, maps, parts, water bags, water chemicals & soap make up the rest. Some stuff we already had and plan to use - a stove, sleeping pads, nalgene bottles, cook-set, etc. We've also included some other items, which skew this figure upward ($35 US for a subscription to the Pacific Crest Trail Association, $7 US for boot and shoe repair, $40 US for vitamin tablets and glucosamine supplements, etc.).
FOOD - We have opted to eat home-made, dehydrated meals (mainly dinners) during our PCT thru-hike. (Read our section on "Food" - we can't rave enough about our tasty meals!) In addition to dinners, we are also making fruit leathers, jerky & some lunch-time soups.
Unlike equipment, food costs have not been spread out over many months. We've seen a sharp rise in food expenses and they correspond with the increased meal production, which began before Christmas, but didn't really get going till after the New Year. We've had the dehydrator running practically 24/7 since then. We don't have an accurate figure for these food costs (nor have we estimated utility charges from running the dehydrator). We tend to buy dehydrated meal ingredients during our normal grocery shopping forays. Many of the ingredients we buy are used for both dehydrated meals and regular meals. Some of the ingredients come from existing stock. And, as of this writing, our meal production isn't complete.
Still, we can give you something to hang your hat on. We estimate that we're spending about $350 CDN more each month of food that we dehydrate down to hard little nuggets. Adding in the estimated cost for pasta, rice and instant potatoes that we still need to purchase ... it would be reasonable to assume that we will have spent about $1000 US (this figure may be a bit high) for 200 dinners (2 PCT-sized servings), 1080 fruit leathers, 720 strips of beef jerky and about 40 soups (2 servings each).
We'll update this number prior to leaving (if we remember ... or if you remind us sometime around the middle of March ... go ahead: remind us!)
Sticker shock! We've spent nearly $4,000 US on pre-hike expenses. Gee, we haven't even taken one step on the trail! Yites! We have all of those on-trail expenses yet to come ... transportation charges, mail fees, hotel rooms, restaurant bills, and of course ... beer. At this rate we'll have to stop in Lone Pine and get a dishwashing job for the winter season! (Maybe we should push through to Mammoth and THEN get that winter-season job!)
Hiking Expenses
We'll post something here, after our hike, to give you an idea of these costs. Feel free to use the mail link above to remind us to do this, if you find it's 2003 and nothing is here yet! (We're probably off on some adventure in Mexico or something ... who knows?! We could be dead. (Just testing to see if you're still awake.)