First Stages of Planning
We've known that we were going to hike the PCT for a year and a half, so our planning began early, though we didn't actually do any PCT-specific planning. When we entered last year's hiking season, we field-tested equipment and methods. During the spring, with the PCT in mind, we bought our heavy hiking boots (which were too heavy) and a new tent, we bought our food dehydrator and began experimenting with recipes, we tried chlorine-dioxide water treatment, and we gave thought to clothing changes. At the end of the hiking season, we took a 10-day trip around Mt. Rainier, on the Wonderland Trail and used that as our pre-PCT 'test run'. We learned a lot on the hike and it helped us prepare, although another hiking season would be nice - to test out ideas we've come across since we started our PCT planning (e.g., Pepsi-can stove, Ray Jardine sleeping quilt, trail runners, etc.). Still, we believe that we're ready to tackle the real thing.
What resources did we use during our first stages of planning?
1) We spent $35 US and joined the Pacific Crest Trail Association (PCTA). This association promotes, protects and preserves the PCT. They publish a newsletter currently called the "PCTA Communicator" (they're considering a name change) 6 times a year. The newsletter has short articles about gear, hiking experiences, photo contests, volunteer trail maintenance opportunities, and a catalog of PCT-specific maps, books, videos and memorabilia. Members get 10% off of gear and a free thru-hike permit. It's a great place to start and it was fun to think, "Gee, in one year, that'll be US!"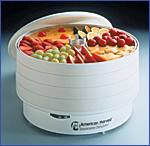 2) We went to our local library and checked out many books on backpacking food and recipes. We felt that we had three basic food options: commercial freeze-dried (expensive, small portions, lots of trash, not always tasty), ad-hoc grocery store items (mac 'n cheese, Knorr and/or Lipton soups, Quik-fix noodles, Top Ramen, etc.), or home-dehydrated meals. Because the PCT is such a long trip, we felt that it would be worthwhile to explore the home-dehydration. Boy, are we glad we did! Give home-dehydration a look-see if you haven't considered it before. (Click here to see a list of dehydration books and articles that we recommend)
3) Once we decided to give dehydration a try, we began to research dehydration machines. That research led us to purchase a Nesco FD-50 food dehydrator from American Harvest. This model offered the most bang for the buck. (It has an adjustable thermostat, a unique air-flow system that allows even drying, powerful 500-watt heater, & can accept up to 12 trays).
4) Back to the local library and onto the Internet (what great resources!) for any information we could get on the PCT. We learned about the existence of the CA and OR/WA PCT Guidebooks from Wilderness Press, though we didn't purchase them right away (see mapping section). We wanted to read about other people's accounts of their PCT experiences. We wanted to find out what worked for them, what problems they had and about their trip. We had tons of questions: Should we hike south-to-north or visa-versa? How does the food-drop work? What if you miss a package? What clothing do we need? Can we count on snow? What equipment do we need? ... We had LOTS of questions. These books and websites were both a source of information and inspiration. (Click here to see a list of books and web-site journals that we used). It is worth noting that we do have a copy of Ray Jardine's "Pacific Crest Trail Hiker's Handbook" and the ultra-light concepts he presents in that book are new to us. They gave us lots to think about, though we both admit that we're having a tough time getting our mind around the idea of eating uncooked food, backpacking in running shoes, or sleeping under a tarp that's held up with a walking stick. He's given us something to think about, however, and we're trying to keep an open mind. Who knows, by the time we're done with the PCT, perhaps we'll be 'converted'. For now, we remain skeptical.
5) We also spent lots of time looking over possible equipment purchases by mulling over equipment catalogs (mostly REI and MEC) and visiting our local stores. The adult version of a kid's candy store! These were fun forays, as we compared features, weight, price and read reviews, both professional and personal. We crawled in sleeping bags and tents, measured out rope, tried on shoes (carrying each other around the store piggyback, to simulate packweight) and modeled the latest in hiker fashions. It was fun!
That's about it. We weren't buried in the nitty gritty details of the PCT, we were just thinking about it in general. Debating the merits of this piece of equipment, dehydration techniques, testing recipes, and dreaming about leaving our modern day cares behind and hiking through God's country for nearly six months. PCT-planning had not yet consumed our lives, but the trail had won our hearts.