Pork Daal Gosht
(We're not sure how many servings this makes, but keep
in mind that 1qt -not including rice- equals 2 trail servings)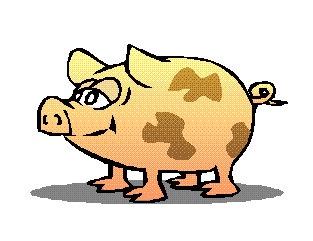 Ingredients:
2 lb. lean pork (the other white meat!)
3 tbsp. butter
2 cups red, white, or blue (ack yellow) onion
4 cloves garlic
1 tsp. ginger (fresh or dry powdered)
1.5 tsp. tumeric
2 tsp. garam masala (curry ... hot or mild,
depending on your taste)
1 cup lentils (we use green, cause they're
cheaper, but the original recipie calls
for brown)
5 cups boiling water
2 tsp. salt
1 tbsp. brown sugar
1.5 tsp. lemon juice
1 tbsp. coriander

At Home: Dice pork into dehydrator-sized cubes (about 1/4" by 1/4" ... this will help them dehydrate & rehydrate in a reasonable time). Chop the onions fine to medium-fine and using a sauce pan, saute them in the butter until golden brown. Crush the garlic and add that to the mix, along with the ginger (which is grated, if fresh), tumeric and garam masala. Add the diced pork, stirring constantly, until the meat uniformly changes color from pink to light brown. Transfer the sauce pan contents to a stewing pot and add the lentils, water and salt, bringing it all to a boil. Lower the heat and simmer until the meat and lentil mixture becomes 'creamy'. You can adjust the liquid as necessary, add more water if it becomes too thick, or uncover the pot to let water evaporate if it is too runny. After it has thoroughly cooked, add the brown sugar, lemon juice and corriander. Taste test your meal, adding more or less spices to your taste. Transfer food onto the dehydrator trays (we use Ziploc or Glad 1-Quart containers to measure - one level quart = two servings). We can generally fit one quart onto two dehydrator trays. Dehydrate until crumbly.
Packing: Label a small (18cm x 13cm) Ziploc freezer bag with the date and meal name. Fill bag with dehydrated sauce (each bag will hold approximately 2 trays of dehydrated food, equivalent to 1 quart of pre-dehydrated meal, or 2servings). Also package 2 servings of minute rice into a separate Ziploc bag (adding salt for the rice).
In camp: Rehydrate meal by adding water to the Daal Gosht mix. You'll get a feel for how much water to add, but keep in mind that you can always add more, but you can't really take any away! Bring this cold mix to a boil, stirring and keeping it from sticking to the bottom of the thin pot. Add water as necessary. Once boiling, turn off the stove and set aside. Note: 1qt of pre-dehydrated meal makes less than a quart of reconstituted meal. You may be tempted to add enough water to make a quart. Don't! The meal will be very runny if you do.)
We cook the minute rice in a separate pot by bringing the right amount of water to a boil, adding the minute rice, stirring and then setting it aside to absorb the water. We then reheat the main meal again (just cause the stove is on and we can add heat). Add water to get the consistency you desire. Mix rice and sauce. Eat!! (Note: If you're solo-hiking, you may want to make both rice and meal at the same time, in one pot. The reason we use two pots is because our one pot is too small for both meal and rice AND then we each have a pot to eat out of).