Border-to-Border MEXiCAN Burritos
(makes 3qts = 6 servings)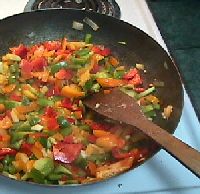 Ingredients:
(2) Whole boneless, skinless chicken breasts
(2) Large green/red Bell peppers
(2) Large yellow cooking onions
(1) 4.5oz cans green chili peppers
(2) 14oz cans refried beans (black or pinto)
(1) 650ml jar of salsa (spicy to taste)
Frozen corn (1-2 cups)
Fresh cilantro (1/4 cup)
Garlic (1 tblspns)
Chili Powder (1 tspn)
(1) 250ml tub sour cream
At Home: Boil chicken breasts in water until cooked and tender (approx 20 minutes), set aside to cool. Dice and saute Bell peppers and onions in a saucepan with some butter or oil till tender. After chicken has cooled to the touch, shred by hand into a large stewing pot. Add sauted Bell peppers and onions to stewing pot. Add jar of salsa to pot. Stir and put on low heat. Add chili peppers, corn and sour cream to pot. Heat cans of refried beans and add to pot. Add spices. Heat till simmering. Put onto dehydration trays ... (1qt of sauce onto two FD50 fruit leather trays = 1 serving per tray).
Packing: Label a small (18cm x 13cm) Ziploc freezer bag with the date and meal name. Fill bag with dehydrated sauce (each bag will hold approximately 2 trays of dehydrated food, equivalent to 1 quart of pre-dehydrated meal, or 2 servings). Also package 2 servings of minute rice and (optional) 4-6 tortillas.
In camp: Rehydrate meal by adding water, stirring and heating. Bring meal to boil and set aside. (Do not add too much water to start off. Add a bit, see how the food absorbs it,then add a bit more. It is impossible to recommend a set amount, as each meal is differenct. You'll soon get a feel for how much to add. The goal is to not make the meal "runny". Generally, you add a bunch of water to start off, then gradually add more as the meal rehydrates. Note: 1qt of pre-dehydrated meal makes less than a quart of reconstituted meal. You may be tempted to add enough water to make a quart. Don't! The meal will be very runny if you do.) Cook the minute rice in a separate pot. Reheat the main meal again, adding water to get the consistency you desire. Mix rice and sauce. Serve onto a tortilla and roll the tortilla to make a burrito (if you are packing tortillas), if not ... then just eat out of the pot. ¡Qué rica!