This is the second installment of a series of articles that chronicles this young Vancouver couple's 6-month wilderness backpacking adventure along the Pacific Crest Trail, from Mexico to Canada - 3,250 miles in all.
New Westminster - It's Sunday morning at 4:45 AM. Scott and Rachel are snuggled in the bed of their rented basement suite. The alarm goes off and it's the beginning of another work day for Rachel. She is a Provincial correctional officer and works a 'four-days-on', 'four-days-off' schedule. Today is the third of four day's "on". She gets up, showers, puts on her uniform, packs a lunch, has a cup of tea - "The lifeblood that courses through my veins," she says - and drives 20 minutes to a remand facility, where inmates are awaiting trial or sentencing. She's working a 12-hour shift today, from 6:30AM to 6:30PM, as a deputy shift supervisor. For most people, work is like a prison, for Rachel, work IS a prison. It's a long day in a concrete institution with very little natural light. It's very different from the expansive views she'll experience on the Pacific Crest Trail.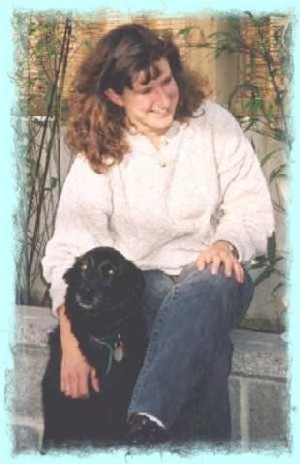 Rachel (31) was born in London, England. Her parents moved to Vancouver in 1978 and she's been here ever since. She likes living in the city.
"It's a youthful place," she says. "There's lots of outdoor activities, places to go, and things to do."
What about the rain?
"Oh yeah, it rains a lot here, but you can't let it stop you from getting outside." She ponders for a moment, her brow furrowed a bit, then says, "If you didn't go outside every time the weather people call for rain, you'd never do anything. But, usually, when they call for rain, it can be only a light mist or brief shower that lasts for only a few minutes. Sometimes, it's just grey and cloudy and never rains at all. Nine times out of ten, if you just go outside, you'll end up staying dry or, at the worst, get spit on for only a few minutes."
Rachel will be leaving her job to hike the Pacific Crest Trail. This is not the career move that most people make after they've worked in a field for nearly 11 years. Either she really likes to hike or she has a career death-wish.
"I do like to hike," she says, with a distant look in her eye, "It's who I am, part of me. I love to get out and explore. Not so much day-hiking, but a big adventure, going from A to B under my own power. It's amazing how far you can go and the people you meet when you're out on your adventure."
But what about work?
"Well, I was originally planning on taking a 2-year leave of absence," she admits, "and it was all approved and everything. Then the new British Columbia liberal government started cutting back government jobs. They offered an early retirement package."
She laughs at my quizzical look.
"No, I'm not ready to retire, just yet. In addition to the early retirement package, they also offered a 'voluntary departure' package. Scott and I talked it over and realized that the program would put 8-to-9 months of pay immediately into my pocket, 3 years sooner than if I had taken the leave. And," she adds, "I don't have to work for it! They're just giving it to me."
Who can pass up on free money? But what will you do when you come back?
"I was thinking about a career change anyway," she says, reaching over to squeeze Scott's hand, "I just got my BA degree from Simon Fraser University this past June and I'm planning on entering the nursing program at University of British Columbia. I've already spoken with them about requirements and grades and what-not. I shouldn't have any difficulties getting admission into their 2-year advance-track program."
"I'm really proud of Rachel," Scott adds, speaking for the first time, "It took her nine years to get her degree in criminology. It's difficult going to school while you're working full-time. I couldn't do it. It just shows how tenacious Rachel is when she sets her mind on a goal. She won't let go till she gets it."
That kind of attitude will be useful on a 2,658-mile hike! Why nursing?
"It makes sense for us," she explains, "The pay is better, the working environment is better, I'd be employable in nearly any town and, if I stay in British Columbia, it's a government job and my pension is transferable."
We talked a bit more about her work and her family. Rachel's parents also live in Vancouver. Her father works for the Provincial government in the coroner's service and her mother, recently retired, was a vice principal at a local high school. Rachel has a strong sense of family and it showed during our visit.
"My parents are great," she said. "They've really become my good friends over these past years and they've really supported me in my dreams. They're going to drive us down to the Mexican border and see us off on the start of our Pacific Crest Trail adventure. They'll also meet us at our first couple of town stops. That will be a big help and allow us to test various equipment before we commit to carrying it 2,650 miles."
Scott's parents are part of their support group too. Both of Scott's parents are retired and living on a ranch near Chico, California. Scott is an American, born in Phoenix, Arizona. Scott's parents were both teachers, his mom worked teaching Physical Education at a high school in California. His father was a professor of Physical Sciences at a local community college. Their ranch duties keep them tied to the land, but they will play a crucial role in Scott and Rachel's journey. They will be responsible for mailing food, equipment and other supplies to the couple every 6-10 days, while they make their way slowly north, hiking at a rate of about 15-25 miles per day.
"Their support is really important," explains Scott, "They will be our lifeline. We're counting on them to mail us our supplies. Most of the towns we'll be going through won't have all the supplies we need. Some places are only a gas station and mini-mart on the side of a mountain highway. Without mail support, the hike would be much more difficult."
Rachel and Scott were married several months ago, though they've known each other for nearly 3 years. They met while cycling across the United States, independently participating in a charity bike ride.
"We met on the 2nd day of the ride," Scott says, "while relaxing in a pool near our camp."
"We found ourselves riding together a lot," adds Rachel, "We pedaled at about the same speed. Some people rode fast and had fancy road bikes. Others rode slowly. We tended to ride at a pretty good pace, but we often would get a later start in the morning."
"What started out as a casual friendship developed into something more over the course the ride," explains Scott, looking at Rachel. "Neither of us was looking for someone, but we connected. Not only did we have a similar riding pace, but we had shared philosophies on all sorts of issues. We both rode 'Chevrolet'-style bicycles, not the top-of-the-line models and we both loved the 'adventure' of the ride more than the riding itself, and we work well as a team."
Rachel nods her head in approval. "We do work well together. That's the strength of our relationship. It's why we'll do well on the Pacific Crest Trail."
"We have our moments," says Scott.
"Shhh," says Rachel, "don't tell him that!" Turning to me, Rachel says, "It's always Scott's fault!"
I don't know about that, but they do seem to have a good sense of humor about things.
"You have to," says Scott. "People often take life too seriously and I should know, because I'm guilty of that. It's the simple things in life that give the greatest pleasure. We experienced that while we were on the cycling across the U.S. and it's one of the things that we're looking forward to on the PCT. Life is simple. You just get up in the morning, no worries, beautiful surroundings, wonderful people and you're only 'job' is to hike, soak up the surroundings, eat and sleep. What could be better than that?"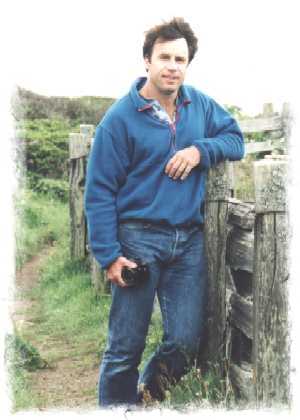 Scott (42), is learning to take life as it comes. He is in his third year of retirement. Yes, you read correctly - retirement.
"A lot of people don't understand," he explains. "They have this picture in their head of some old guy sitting in a rocking chair, on a porch, playing dominos or watching Oprah. That's not me. For me, retirement is more about finding a balance in life."
Balance? Hiking 2,658 miles can hardly be considered 'balance'.
"Okay, okay," Scott says, backing up a bit, "The PCT isn't about balance. It's more about fulfilling a 17-year-old dream. I was 25 when I first learned about and wanted to hike the Pacific Crest Trail, but I was just starting my career as a geophysicist."
Better back up a bit more. Geophysicist? What's that?
Scott continues, "My education is in the Earth Sciences. I graduated from the University of California at Davis with a BS degree in geology and went on to get a Master's degree from Pennsylvania State in geophysics. My 17-year career has been in the petroleum industry, working for several companies, including my own consulting firm. In lay terms, I helped oil companies find oil. I've worked in the field, including the jungles of Sumatra and Central America, and I've done quite a bit of work with UNIX computers - mapping and 3-D modeling."
"The work was OKAY & the pay was fantastic," says Scott, "but it demanded a lot of time and there was little left for myself. That's where the balance comes in. I don't want to work 72+ hours per week anymore, but at the time, I didn't have a choice, especially when I was consulting. When you're consulting, the bottom line is getting the job done and if that means working 12+ hours a day, seven days a week, then so be it. The money was great, but without balance, you can only hang in there for so long, no matter how much money you're making. I was achieving professional goals, but no personal goals - like hiking the PCT. I want to carve out a life that has better balance. When I was 39, I saw this advertisement to cycle across the U.S. in a charity ride to benefit the American Lung Association. I thought the time was right, so I quit."
"It wasn't as simple as that," says Rachel, "He took a 3-month leave of absence, actually."
"I did," says Scott, "but the company I was working for at the time fired me while I was away. I guess they didn't like that I was cycling and not finding oil."
So, you really didn't voluntarily retire then?
"It's a moot point," says Scott, "When I made the decision to ride across the U.S., I was ready to quit. The leave was just a strategy I used to insure (or so I thought) that I'd have a job in case I wanted to return to work. An insurance policy. But to answer your question, let's just say that it made the decision to leave 'easy'."
The obvious question. What do you do for money to live on. Do you have a pension?
"No," explains Scott, "When I was making big 'petro-dollars' I lived a very frugal lifestyle and saved a lot. It's also one of the areas that Rachel and I are compatible. We're both very frugal."
Rachel nods her head in agreement.
"I saved my money," continues Scott, "and invested it. We've saved enough to support a modest, but fugal lifestyle. We have to budget and of course, this stock market is killing us right now. We'll have to see where the market heads in a couple of years, but for now, we think we're covered."
With the financial side of the hike covered, I asked Rachel and Scott about the physical rigors of hiking.
"The Pacific Crest Trail will be physically demanding," said Rachel, "but our experience on the cycle ride across the U.S. gives us the confidence to know that we will be able to handle it."
I asked them if they were training and their answer was surprising.
"No," they both admitted, sheepishly.
Why not?
"Well," says Scott, "the Pacific Crest Trail isn't something that can really be 'trained' for. The only way to train for hiking all day with 40-50 pounds on your back is to actually hike all day with 40-50 pounds on your back. With all of the preparatory work that we're doing - dehydrating food, sewing & purchasing gear, planning, building a website and planning beyond the PCT - who has the time to hike several hours with a pack? Besides, the wet snow and rain of a Vancouver winter isn't exactly conducive to that kind of extended activity."
"We're both in pretty good shape," adds Rachel, "We've allowed for some short days at the beginning of our adventure, to accommodate our acclimatization to the physical demands of the trail. Our biggest worry will be blisters. Yes, our legs will be sore and we may only hike 10-15 miles per day at first, but I believe that we'll be up to 15-25 miles per day after a couple of weeks."
"We can help prevent blisters by breaking in our boots before we go," says Scott, "So, in that sense, we will be 'training', but it will generally involve walking in our trail shoes. Not exactly a tough training regimen."
What are you going to do after the Pacific Crest Trail?
Rachel says, "The PCT is just the beginning of a 2-year traveling vacation. Scott's never taken the time to travel and I'd like to travel now, before we settle down and raise a family."
So there are little adventurer's in your future? They look at each other.
"Maybe," says Scott ... as Rachel playfully slugs him in the shoulder.
"Yes," says Rachel, "but we want to take some time for ourselves first, to cement our relationship and have some adventures."
"We already have a 'little adventurer," Scott chimes in, "He's sitting right here in my lap!"
In Scott's lap is a black and white cat, named "Tuxedo", AKA "Big Guy". I find out why he's nicknamed 'Big Guy'. Tuxedo is no small creature, weighing in at a respectable 16 pounds. He's not going on the PCT with you, is he?
"No," laughs Rachel. "He's more adapted to sleeping than hiking. I don't think that he'd adjust too well to trail life."
"Besides," adds Scott, "He eats too much. He couldn't carry it all!"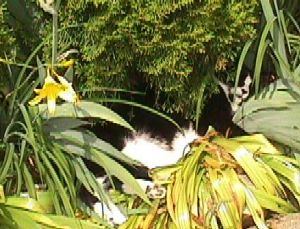 "About the most wilderness experience Tuxedo gets is lounging in the outside flower garden," Rachel says, laughing.
"He's headed over to stay with Rachel's parents," says Scott, ruffling Tuxedo's fur and getting a purr as a response, "He'll fit in well there, sleeping in the warm basement, eating food. You know ... doing what he does best."
"Won't you, Big Guy," Scott asks the cat, who looks in his eyes and nudges Scott's hand for some more petting.
"We're gonna miss this guy," says Rachel, obviously meaning her words.
"Yep," adds Scott, "But we'll see him in a couple of years. We've got trails to hike, people to meet, photos to take, and lots of time to enjoy before we return."
Well, they'll certainly have plenty of time on the Pacific Crest Trail, nearly six months of it. With their shared love of adventure, it sounds like it will be a great trip. I never thought of myself as adventurous, but the enthusiasm of these two is contagious.